Under pressure from the opposition, Chavez vows a more efficient government
Venezuelan President Hugo Chavez said he will run a more efficient government if reelected. Opposition candidate Henrique Capriles has pushed Chavez on his record and problems like crime and corruption during the election.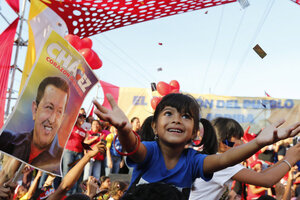 Jorge Silva/Reuters
President Hugo Chavez vowed on Sunday to run a more efficient government if he wins Venezuela's election next weekend while rival Henrique Capriles demanded justice for the shooting of two opposition activists.
With the South American OPEC member's Oct. 7 presidential vote shaping into a close fight, Capriles is hammering Chavez daily on his record with day-to-day problems such as crime, blackouts and shoddy infrastructure.
"Efficiency, that is one of my promises for the next period. We have to correct things," the 58-year-old president said in his most direct comment on a theme the opposition hopes could sway former "Chavistas" into their camp.
In recent days, Chavez has added into his campaign speeches an acknowledgement of Venezuelans' frustration with grassroots problems but has said things would be far worse under Capriles, who he paints as a heartless capitalist elitist.
Capriles, 40, a state governor who has a centrist vision of business-friendly government with strong welfare policies, lambasted the government overnight for the fatal shootings of two local opposition leaders in Barinas state.
"We demand an immediate investigation into something that should have never have occurred - a campaign motorcade attacked with gunshots," Capriles said on Twitter.
"We Venezuelans are sick of violence and we are going to defeat it, along with its government, on the 7th of October ... The violent discourse of the government candidate will be defeated."
Gunmen killed the two activists, including one from Capriles' First Justice party, at a rally on Saturday afternoon in the worst violence of the volatile election campaign.
The party said gunmen had fired from a van, which witnesses identified as belonging to a state institution, after Chavez supporters blocked an opposition motorcade.
The government did not confirm that version but promised an investigation into what it said was an isolated incident.
---