In Iran, currency freefall sparks protests, crackdown
Amid reports of sporadic street violence, Iranian authorities have moved to crack down on sidewalk money changers, close exchange houses, and block currency websites.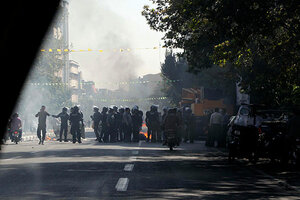 AP
Iranian authorities used aggressive measures Wednesday in an attempt to halt the nosedive of the country's currency, making arrests, vowing to stamp out sidewalk money changers and warning merchants against fueling the mounting public anger over the economy.
There were unconfirmed reports of sporadic violence. Associated Press photos showed riot police blocking a street with the charred hulks of a garbage can and a motorcycle that had been set on fire. Smoke was rising from the area in central Tehran near the main bazaar.
The sweeping responses to the freefall of the rial — which has lost more than a third of its value in a week — underscored the worries for Iranian leaders after months of dismissing the West's economic squeeze seeking to rein in Tehran's nuclear program. A declining currency causes shifts in an economy such as making imported goods more expensive.
Although the currency crisis is blamed on a combination of factors — including internal government policies — the rush to dump rials appears to reflect an underlying perception that international sanctions have deepened problems such as runaway inflation and soaring prices for imports and that the only safe hedge is to grab dollars or euros.
If the economic turmoil intensifies, it could boost pressure on the ruling system before elections next June to pick President Mahmoud Ahmadinejad's successor. That has the potential to hinder nuclear talks with the West until after the elections.
---