Israel downs drone over its airspace, suspects Hezbollah
Israel brought down a drone that crossed into its airspace today, the first such incident in six years. Officials say it may have been a surveillance drone launched by Lebanese militant group Hezbollah.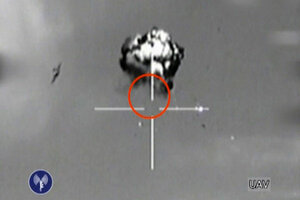 Israeli Defense Force
Israel scrambled fighter jets to intercept a drone Saturday that crossed deep into Israeli airspace from the Mediterranean Sea, shooting the aircraft down over the country's southern desert, the military said.
The incident marked the first time in at least six years that a hostile aircraft has penetrated Israel's airspace, and Israeli officials said they were taking the incident seriously, raising the possibility of retaliatory action.
It was not immediately clear who launched the drone, but suspicion quickly fell on the Lebanese Islamic militant group Hezbollah. The Iranian-backed group is known to have sent drones into Israeli airspace on several previous occasions.
Tensions are running high between Iran and Israel over Tehran's nuclear program, which the West believes is cover for the development of atomic weapons. The Islamic Republic denies the allegations, and says its program is for peaceful purposes only. Israel has threatened to carry out a military strike against Iran's nuclear facilities to prevent Iran from acquiring such weapons.
Lt. Col. Avital Leibovich said Israeli ground systems detected the drone, which flew over the Gaza Strip but did not originate there, Saturday morning and alerted the air force, which scrambled the jets to intercept the aircraft. She said Israel was still trying to determine where the drone took off from. Nobody was hurt in the incident.
---