Syria and Turkey edge closer to crisis as shelling continues
Turkey has shelled Syria for the fourth consecutive day, leading to fears that Syria's civil war may become a regional conflict.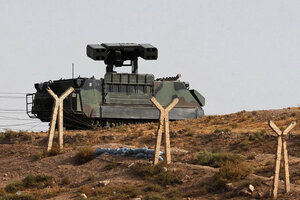 AP
Turkey and Syria traded artillery fire for the fourth day in a row Saturday as rebels clashed with President Bashar Assad's forces near the border, heightening fears that the crisis could erupt into a regional conflict.
Also Saturday, Syrian Defense Minister Gen. Fahd Jassem al-Freij vowed to crush the rebellion and bring the violence that has engulfed the country to an end.
The diplomatic crisis began on Wednesday, when a Syrian shell killed five civilians in a Turkish border town and triggered unprecedented artillery strikes by Turkey. Ankara has deployed more troops to its southern border with Syria, and has responded to each shell that has struck Turkish soil with its own artillery barrage.
RELATED: Think you know the Middle East? Take our geography quiz.
On Friday, Turkish Prime Minister Recep Tayyip Erdogan cautioned Damascus not to test Turkey's "limits and determination" and said Ankara was not bluffing in saying it won't tolerate such acts.
Saturday's cross-border exchange began when two mortar shells fired from Syria landed in rural areas near the Turkish village of Guvecci, prompting Turkish return fire, Turkey's media reported.
Later Saturday, a third shell hit near another village in Turkey's Hatay province and Turkish troops fired back, the office of the provincial governor said.
No casualties were reported.
---