Chavez vs. Capriles: The battle for Venezuela
Presidential elections are held in Venezuela today, where incumbent President Hugo Chavez faces Henrique Capriles, a centrist. Chavez has ruled Venezuela for 14 years, and has enacted socialist policies. If elected, Capriles is expected to turn the country in a dramatic new direction.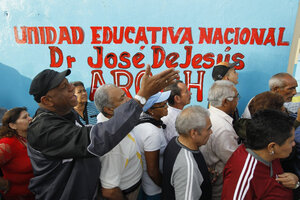 Carlos Garcia Rawlins/Reuters
President Hugo Chavez's crusade to transform Venezuela into a socialist state, which has bitterly divided the nation, was put to the stiffest electoral test of his nearly 14 years in power on Sunday in a closely fought presidential election.
Reveille blared from sound trucks to awaken voters and the bugle call was later replaced by folk music mixed with a recording of Chavez's voice saying "those who love the homeland come with me." At many polling places, voters lined up two hours before polls opened at dawn.
Chavez's challenger, Henrique Capriles, has united the opposition in a contest between two camps that distrust each other so deeply there are concerns whether a close election result will be respected.
The stakes couldn't be higher.
If Chavez wins a new six-year term, he gets a free hand to push for an even bigger state role in the economy, further limit dissent and continue to befriend rivals of the United States.
If Capriles wins, a radical foreign policy shift can be expected along with an eventual loosening of state economic controls and an increase in private investment — though a tense transition would likely follow until the January inauguration because Chavez's political machine thoroughly controls the wheels of government.
Many Venezuelans were nervous about what might happen if the disputes erupt over the election's announced outcome.
---