Greek union members arrested in anti-austerity protests
Prompted to protest by German Chancellor Angela Merkel's visit to Greece, members of the GENOP union, which represents utility workers, were arrested while occupying a public utility building Monday.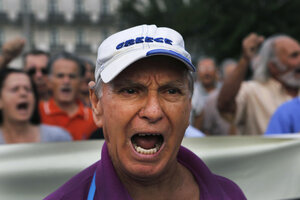 Yannis Behrakis/Reuters
A Greek public prosecutor on Monday charged power workers for occupying a public utility building in an anti-austerity protest broken up by police ahead of a visit by German Chancellor Angela Merkel.
Police stormed the building late on Sunday and arrested 18 members of Greece's powerful GENOP union after workers took over a data centre of the state-controlled utility PPC and unfurled a banner reading "We resist".
"No matter how many times they arrest us we will not bow our heads," GENOP leader Nikos Fotopoulos told reporters after leaving the prosecutor's office on Monday.
All 18 were charged with disturbing the peace and face up to a few months in prison if convicted. They were released pending trial, court officials said.
GENOP, one of Greece's most militant labour unions, has promised action against a new wave of belt-tightening demanded by the country's international lenders, including rolling 48-hour power strikes when austerity measures go to parliament.
---