Panetta cautions Latin America against using military as police force
During a meeting of Western Hemisphere defense ministers, US Defense Secretary Leon Panetta urged Latin American countries to look for solutions other than using military as law enforcement.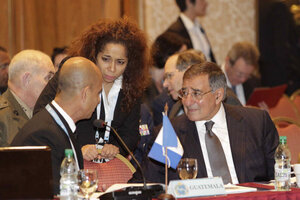 Andres Stapff/Reuters
US Defense Secretary Leon Panetta cautioned Western Hemisphere countries on Monday against relying on the military to perform police duties, telling a meeting of the region's defense ministers that civilian authorities should be strengthened to deal with law enforcement on their own.
Addressing an issue faced by many Latin American countries as they grapple with insurgencies or drug trafficking, Panetta told the officials, "The use of the military to perform civil law enforcement cannot be a long-term solution."
He acknowledged it is sometimes difficult to tell whether transnational threats to peace and stability should be handled by the military or law enforcement, a debate that has divided the United States as it responded to the Sept. 11 attacks over the past decade.
"As partners, the United States will do what we can to bridge the capability gaps between armed forces and law enforcement," he said at the 10th Conference of Defense Ministers of the Americas.
---