Amnesty International reports rise of forced evictions in China
Forced evictions to make way for development are a major issue of discontent in China. According to Amnesty International, the rate of forced evictions has increased sharply in the past two years.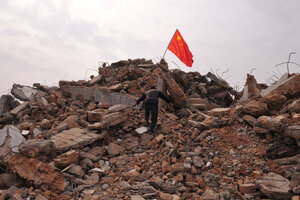 Rooney Chen/Reuters
Forced evictions in China, a major source of social discontent, have risen significantly in the past two years as local officials and property developers colluded to seize and sell land to pay off government debt, Amnesty International said on Thursday.
Property disputes in a country where the government legally owns all land are often violent and have led to growing social instability, one of the challenges facing a new generation of Chinese leaders, led by Vice-President Xi Jinping.
Amnesty's 85-page report, compiled between February 2010 and January 2012, said violence exerted on residents resulted in deaths, imprisonment and self-immolations.
---