Syrian airliner forced to land in Turkey: Was is carrying missile parts?
Turkey says that the Syrian Air Airbus A320 en route from Moscow to Damascus was carrying military communications gear and missile components, a charge that Syria denies.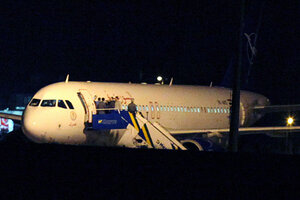 Burhan Ozbilici/AP
Turkey defended its decision to force a Syrian passenger plane to land, saying Thursday the aircraft was carrying illicit cargo from Russia that Turkish media said included military communications gear and missile parts.
Syria branded the incident piracy and said there was nothing illegal on board. Syria's ally Russia also criticized Turkey, saying Ankara had endangered the lives of Russian citizens on board the aircraft.
In a statement Thursday, the Foreign Ministry in Ankara said the pilot of the Syrian Air Airbus A320, on a scheduled flight from Moscow, had been warned of Turkey's intention to ground it as he approached from the Black Sea on Wednesday evening. It said he was given the chance to turn back, but that he decided to continue his course.
Turkish-Syrian relations have plummeted over the conflict in Syria, with Turkey calling for President Bashar Assad to step down and Damascus accusing Turkey of supporting the rebels. The two neighbors have traded artillery fire over Syria's northern border throughout the past week.
---