Report: Syria using widely-banned cluster bombs
A Human Rights Watch report points to new evidence that the Syrian regime is using the widely-banned munitions, which pose a significant risk to civilians long into the future.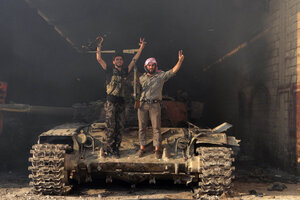 Eyad Garood/Reuters
An international human rights group said Sunday it has obtained new evidence that Syrian troops are using cluster bombs – widely banned munitions that pose a grave risk to civilians because they burst into bomblets over large areas and often linger on the ground, detonating only when touched.
Steve Goose of US-based Human Right Watch said cluster bombs "have been comprehensively banned by most nations, and Syria should immediately stop all use of these indiscriminate weapons that continue to kill and maim for years." HRW had previously reported cluster bomb remnants found in Homs and nearby Hama this summer.
"Syria's disregard for its civilian population is all too evident in its air campaign, which now apparently includes dropping these deadly cluster bombs into populated areas," said Goose, who is HRW's arms director. Syrian government officials had no immediate comment.
There were also new signs of the mounting tensions between Turkey and Syria, two former allies who have become bitter foes since the outbreak of the 19-month-old rebellion against President Bashar Assad. Turkish Foreign Minister Ahmet Davutoglu announced that Turkey is barring Syrian civilian flights from Turkey's airspace, a day after Syria issued such a ban for Turkish commercial aircraft. Davutoglu said Syria is "abusing" civilian flights by using them to transport military equipment.
---