Taxi bomb hits Syrian capital as UN envoy pushes for cease-fire
The bomb killed at least 13 people in Damascus. In another part of the capital, UN envoy Lakhdar Brahimi met with President Bashar Assad.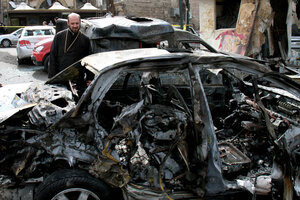 Bassem Tellawi/AP
A taxi rigged with explosives blew up outside a police station in the Syrian capital Sunday, killing at least 13 people even as the UN envoy to the nation's crisis was visiting Damascus to push his call for a cease-fire in talks with President Bashar Assad.
The SANA state news agency said 29 people were also wounded in the blast in the Bab Touma neighborhood, a popular shopping district largely inhabited by Syria's Christian minority.
Once largely immune to the violence that has swept over Syria since the anti-Assad revolt began in March 2011, Damascus has become a frequent target of bombings in recent months. There was no immediate claim of responsibility for Sunday's blast, but Islamist groups fighting alongside the rebels have sometimes claimed responsibility for bomb attacks against security targets in the capital.
Two officials speaking from the scene said the taxi blew up 50 yards from Bab Touma's main police station. He insisted on anonymity because he was not allowed to brief the media.
SANA put the death toll at 13, while the anti-regime Syrian Observatory for Human Rights said at least 10 people were killed in the blast.
Envoy meets Syrian president
In another part of the capital, UN and Arab League envoy Lakhdar Brahimi met with Assad as part of his push for a cease-fire between rebels and government forces for the four-day Muslim holiday of Eid al-Adha, which begins Oct. 26.
---