British recession ends on Olympics' economic boost
Britain posted its strongest quarterly GDP growth in five years in the third quarter, the government said today, thanks in part to temporary factors like this year's Olympics.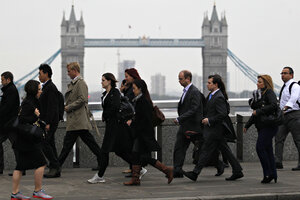 Sang Tan/AP
Britain rebounded strongly from recession in the third quarter, posting its strongest quarterly GDP growth in five years, boosted at least in part by robust Olympics spending, official data showed on Thursday.
The jump in growth was subject to a number of temporary factors, including the Olympics, which may mask a weaker underlying picture. But it was still much better than expected and may mean Britain's full 2012 economy will not be in the red.
The Office for National Statistics (ONS) said Britain's gross domestic product rose by 1.0 percent between July and September, beating forecasts for a 0.6 percent gain, after shrinking by 0.4 percent between April and June.
On the year, the economy was flat, also better than expected.
The return to growth after three consecutive quarters of contraction was welcome news for a coalition government under pressure to do more to revive the economy. However, the third quarter rise was boosted by ticket sales for the London Olympics - which the statistics office estimated accounted for a fifth of the quarterly increase - and a rebound from an extra public holiday in the second quarter.
Stripping out those one-off effects, economists said growth in the UK economy was weak and that headwinds from the eurozone were likely to act as a drag in the coming months.
"It was a very good number, but understandably good," said Alan Clarke, economist at Scotiabank, noting the lift from the Olympic ticket sales and what he estimated was about half a percentage point boost from the hit taken by the June extra holiday.
"There's now a good chance the economy won't actually contract on average for this year... It'll probably be flat and, in the context of monetary policy, it reinforces the case for the Bank of England to pause on quantitative easing."
Sterling hit a one-week high versus the dollar and British government bonds extended losses after the data was released.
---