Ecuador fears for Wikileaks founder's health, asks UK for safe passage
Julian Assange has been holed up inside Ecuador's embassy in London since June to avoid extradition to Sweden. An Ecuadorian foreign official said they are 'very concerned about his health.'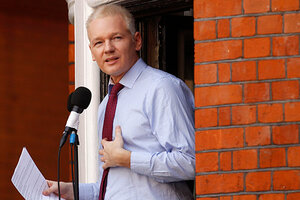 Sang Tan/AP/File
Ecuador is worried about the health of WikiLeaks founder Julian Assange and has asked Britain to guarantee him safe passage from its London embassy to hospital if he needs medical treatment, a senior Ecuadorean diplomat said in Moscow.
Assange, an Australian, has been holed up inside Ecuador's embassy in central London since June to avoid extradition to Sweden to face rape and sexual assault allegations.
British authorities say Assange will be arrested if he sets foot outside the embassy. The apartment building, located just behind London's famed Harrods department store, is under constant police surveillance.
"Assange has grown noticeably thinner, and we are very concerned about his health," Voice of Russia radio quoted Vice Foreign Minister Marco Albuja Martinez as saying in comments confirmed by the Ecuadorean embassy in Moscow.
"If he falls ill, we will have to choose between two alternatives: to treat Assange in the embassy or hospitalise him," Albuja Martinez said. "This is a very serious situation and it can affect Assange's human rights."
Later on Wednesday, Ecuador's Foreign Minister Ricardo Patino told reporters in Quito that while he does not know if Assange has any medical problems, he is worried about his health as time goes on.
"It's obvious that his health will deteriorate and we don't have a protocol, we don't have the necessary conditions" to deal with a possible health emergency, Patino said.
Ecuador has asked the British Foreign Office for a document that would enable Assange to enter hospital safely if necessary and return to the embassy with refugee status.
"I still haven't had a response from Britain to see what we do if Mr. Julian Assange has an emergency ... . At this point, the threat that they will arrest him if he sets foot outside the embassy still stands," Patino said, adding that Assange is "suffering."
---