Ukraine votes: disappearing ink, a clone candidate, other tricks emerge
Ukraine's opposition parties are alleging widespread violations as the country votes today in parliamentary elections.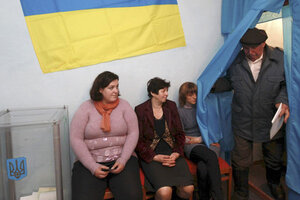 Konstantin Chernichkin/Reuters
Ukraine's opposition parties alleged widespread violations in Sunday's parliamentary vote, seen as a test of President Viktor Yanukovych's commitment to democracy and European values.
With the charismatic opposition leader, former Premier Yulia Tymoshenko in jail, the opposition split, and regular Ukrainians disillusioned with politics, Yanukovych's Party of Regions was expected to retain control over parliament despite his rollback on democracy.
The West is paying close attention to the conduct of the vote in the strategic ex-Soviet state, which lies between Russia and the European Union, and serves as a key conduit for transit of Russian energy supplies to many EU countries.
Ukraine's relations with the West have soured over Tymoshenko's jailing, which prompted the EU to freeze a long-awaited partnership deal with Kiev. An election deemed unfair would likely turn Ukraine further away from the West and toward Moscow.
---