Mexico to charge police officers in attack against CIA agents
After an ambush that injured US CIA operatives, the Mexican government has indicated they are close to charging police officers, who they say may be corrupt.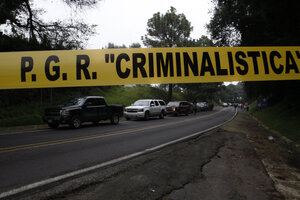 Margarito Perez Retana/Reuters
Mexico said on Wednesday it was close to charging police officers with deliberately targeting two US agents in an August attack that caused serious embarrassment to the Mexican government.
Security officials identified the men as CIA agents, and Mexican investigators have said the attack may have been carried out by corrupt police working with drug gangs.
The incident, which police first blamed on a case of mistaken identity, was the worst attack against US officials in Mexico since drug gang hit men killed a US immigration agent and wounded his colleague in a highway attack in early 2011.
Mexico's attorney general said police were likely to be prosecuted for the ambush of the two agents as they traveled in a vehicle with diplomatic plates on a road south of Mexico City.
---