Syrian rebels attack key government airbase
Saturday morning Syrian rebels tried to disrupt air strikes that have pummeled their strongholds by launching an assault on a government airbase. The attack highlights questions of organization and disunion amongst the rebels.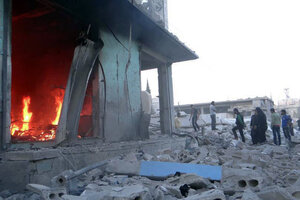 Idlib News Network/AP
Syrian rebels launched a dawn assault Saturday on a strategic airbase in the north of the country, trying to disrupt strikes by warplanes and helicopters that pound rebel-held towns and give the regime of President Bashar Assad a major edge in the civil war.
The assault, reported by activists, comes a day before the start of a key international conference in Qatar at which the United States and its allies aim to reorganize the opposition's political leadership and unite their ranks. The leadership-in-exile has been widely seen as ineffective and out of touch with rebel fighters on the ground.
Rebels forces attacked the Taftanaz airbase early Saturday morning in fighting with government forces that continued into the afternoon, the anti-regime activist Syrian Observatory for Human Rights said.
Joining Syrian rebels in the attack were fighters from Jabhat al-Nusra, an al-Qaida-inspired Islamic militant group made up of foreign jihadis, according to the Observatory. Al-Nusra fighters, who are considered among the most experienced and disciplined among the opposition forces, have led attacks on other airbases in the north in past months.
The Taftanaz base mainly houses military helicopters, near the main highway between the capital Damascus and the northern city of Aleppo, where rebels and the military have been battling for control for months.
---