Vatican trial: The butler did it, but did the IT guy help?
Claudio Sciarpelletti, an IT technician, is expected to come off with a light sentence. Many Vatican watchers say both men could be pawns in a palace power struggle.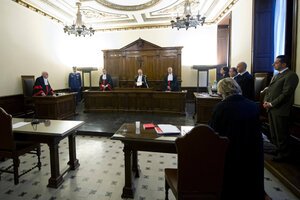 Osservatore Romano/REUTERS/File
The former butler of Pope Benedict convicted of stealing papal documents had not allowed technicians to check his computer for the last six years, a court trying a second suspect in the Vaticanleaks scandal heard on Monday.
The detail was made public at the first hearing in the trial of Claudio Sciarpelletti, a computer expert who is charged with aiding and abetting Paolo Gabriele, the former butler.
The leaks scandal unleashed one of the biggest crises of Pope Benedict's papacy, embarrassing the Vatican at a time when it was struggling to overcome several child sex abuse scandals involving clerics, as well as mismanagement at its bank.
Gabriele was convicted of aggravated theft at a separate trial last month and sentenced to 18 months in jail for stealing sensitive papal documents and leaking them to the media. He kept some confidential information on his computer.
One of the pope's closest household assistants, Gabriele admitted leaking the documents in what he said was an attempt to help disclose corruption and "evil" in the headquarters of the 1.2 billion-member faith.
The ex butler, who is serving out his sentence in a Vatican jail cell, attended the opening of Monday's trial for a few minutes but was then ushered out along with other witnesses. He looked calm and was smiling but did not look at Sciarpelletti.
Gianluca Benedetti, Sciarpelletti's lawyer, said Gabriele's work computer had become "obsolete" and one of the oldest in the Vatican but that he had refused to allow Sciarpelletti, 48, to touch it.
---