Greeks strike over spending cuts before crucial austerity vote
The strike has brought public transport to a virtual standstill and shuttered schools, banks, and local government offices in Greece the day before Parliament votes on a new round of wage and pension cuts.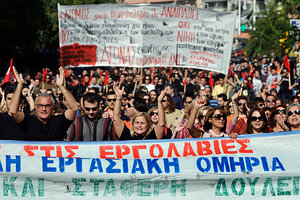 Giorgos Nisiotis/AP
Hundreds of thousands of Greeks began a crippling 48-hour strike on Tuesday to protest against a new round of wage and pension cuts that parliament is expected to approve by a narrow margin.
The parliamentary vote on Wednesday is the biggest test yet for the government of Prime Minister Antonis Samaras, which needs victory to secure aid from foreign lenders but has failed to convince its smallest coalition partner and the public to back the reforms.
The strike, called by Greece's two biggest labour unions representing half of the four million-strong workforce, brought public transport to a virtual standstill and shuttered schools, banks and local government offices.
A crowd of about 16,000 protesters - fewer than is usual during Greece's frequent strikes - gathered outside parliament in Athens, waving flags, beating drums and chanting "People, don't bow your heads!" and "This strike is only the beginning".
RELATED: Think you know Europe? Take our geography quiz!
It was the third major walkout in two months against the package of public spending cuts and reforms making it easier to hire and fire workers, which many Greeks feel penalise the poor and spare a wealthy elite.
"The measures are wrong, the politicians and the rich aren't paying their taxes and the only ones paying are those on 300 and 500 euros a month," said Dimitris Karavelas 42, who has been forced to shut down his small construction company.
Successions of strikes since Greece fell into crisis in 2009 have so far failed to prevent parliament from approving the international lender-prescribed cuts, which have inflicted misery on the country and kept the economy in a deep recession.
---