Amid scandal and new criticisms, BBC's news chief steps aside
The BBC's news chief and her deputy have been temporarily replaced as the British broadcaster's editorial policies come under criticism. On Saturday, the BBC's director general resigned, following a misleading report and an unreported story, both having to do with child abuse.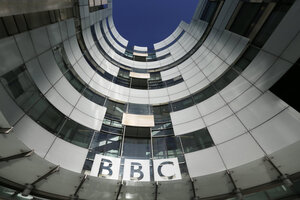 Alastair Grant/AP
The BBC's news chief and her deputy have been temporarily replaced while the broadcaster deals with the fallout from coverage of a child abuse scandal that forced its director general to resign, the broadcaster said Monday.
Helen Boaden, the BBC's director of news and current affairs, and her deputy, Stephen Mitchell, have handed over their responsibilities to others for the time being "to address the lack of clarity around the editorial chain of command," the corporation said.
"Consideration is now being given to the extent to which individuals should be asked to account further for their actions and if appropriate, disciplinary action will be taken," the statement said.
The BBC, meanwhile, faced criticism for agreeing to a 450,000 pounds or $715,000 payoff — a year's salary — for George Entwistle, who resigned as director general on Saturday after a BBC news program bungled reports that powerful Britons sexually abused children.
Prime Minister David Cameron's spokesman on Monday criticized the payoff for Entwistle, who led the BBC for just 54 days.
"Clearly, it is hard to justify a sizeable payoff of that sort," spokesman Steve Field told reporters, but added it was for the BBC to justify the decision.
However, the prime minister gave his support to Chris Patten, the embattled chairman of the BBC Trust, the corporation's governing body.
---