China: No surprises in congress
Those predicted to take leadership roles in China's Communist Party have done so, reports Xinhua news agency. Further appointments will take place on Thursday. The Party's leaders will dictate the direction of the country's economic and political policies in the coming years.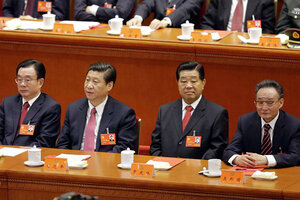 REUTERS/Jason Lee
China's Communist Party congress offered the first clues on a generational leadership change on Wednesday as Xi Jinping and Li Keqiang took the first step to the presidency and premiership, respectively.
In a brief dispatch, Xinhua news agency said Vice President Xi and Vice Premier Li had both been elected to the party's Central Committee at the end of a key congress, though that result was never really in any doubt.
The 2,270 carefully vetted delegates cast their votes behind closed doors in Beijing's cavernous Great Hall of the People for the new Central Committee, a ruling council with around 200 full members and 170 or so alternate members with no voting rights.
The committee will in turn, on Thursday, appoint a Politburo of a few dozen members and a Politburo Standing Committee, the innermost ring of power with possibly seven members, reduced from the current nine.
Xi has long been expected to take over from Hu Jintao, first as party chief and then as president when parliament meets for its annual session in March. Li is Premier Wen Jiabao's designated heir.
All the other eight leading officials who have been tipped as possible members of the Standing Committee also made it on to the Central Committee, according to Xinhua.
That includes North Korean-trained economist Zhang Dejiang, financial guru Wang Qishan, minister of the party's organisation department Li Yuanchao, Tianjin's party boss Zhang Gaoli, and the conservative Liu Yunshan, who has kept domestic media on a tight leash.
---