Will China's new leaders implement bold reforms?
China's Communist Party transitioned to new leadership peacefully on Thursday. Rapid growth over the past decade has left the Chinese public wanting more. Will the new government deliver?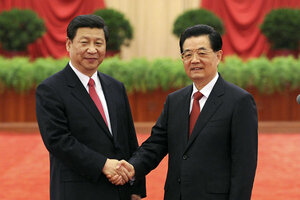 AP Photo/Xinhua, Li Xueren
However ploddingly China's new leaders might like to reform the world's second-largest economy and the way they govern, pressures set to build over the next decade will likely force great change upon them.
President-in-waiting Xi Jinping and the next premier, Li Keqiang, were anointed on Thursday as the top leaders of the Communist Party, only the second time the party has managed a peaceful transition since it took power in 1949.
Xi, a "princeling" whose father was a top official, and Li, a policy wonk with a law background, inherit a China that is richer and more confident, and a far greater force in diplomacy and the global economy than when their predecessors Hu Jintao and Wen Jiabao took the helm 10 years ago.
Yet they also confront immense social, economic and political challenges, which if not managed skilfully could shake the party to its core.
If the new leadership lacks vision, said David Shambaugh, director of the China Policy program at George Washington University in the United States, then "I'll be surprised if they have a 19th party congress," referring to the just ended 18th conclave where the next generation of leaders were announced.
That might be a stark view, but many China experts agree the new leadership will need to be bold in reform if they want to keep their iron grip on a fast changing country.
---