India executes surviving gunman of 2008 terrorist attacks
On Wednesday Indian officials quietly executed Mohammed Ajmal Kasab, one of the Pakistani men responsible for the Mumbai terrorist attack of 2008, which killed 166 people and escalated tensions between the two countries.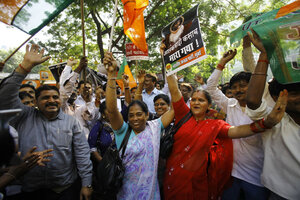 Rafiq Maqbool/AP
India executed the lone surviving gunman from the 2008 Mumbai terror attack early Wednesday, four years after Pakistani gunmen blazed through India's financial capital, killing 166 people and throwing relations between the nuclear-armed neighbors into a tailspin.
Mohammed Ajmal Kasab, a Pakistani citizen, was hung in secrecy at a jail in Pune, a city near Mumbai, after Indian President Pranab Mukherjee rejected his plea for clemency.
News of the execution was widely cheered in India, with political parties organizing public celebrations and some people setting off firecrackers. But for those more deeply touched by the events of 26/11, as the attack is known here, the hanging offered only a partial catharsis.
"This is an incomplete justice as the masterminds and main handlers of 26/11 are still absconding," said Kavita Karkare, the widow of Hemant Karkare, the chief of Mumbai's anti-terrorism squad who was killed while pursuing Kasab. "They should also be hanged."
Indian officials accuse Pakistan's intelligence agency of working with the militant group Lashkar-e-Taiba to plan the attack — an allegation Islamabad denies. India and Pakistan, which have fought three wars since they were carved out of British India in 1947, suspended peace talks after the Mumbai attack.
---