In show of power, China lands first jet on aircraft carrier
On Sunday, China landed a jet on its aircraft carrier for the first time. The vessel only recently came into service, and is part of a initiative to boost military spending.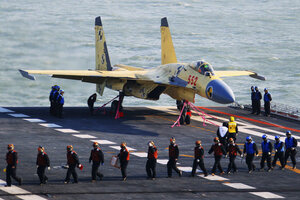 Zha Chunming/Xinhua/AP
China has carried out its first successful landing of a fighter jet on its first aircraft carrier, state media said on Sunday, a symbolically significant development as Asian neighbours fret about the world's most populous country's military ambitions.
The home-built J-15 fighter jet took off from and landed on the Liaoning, a reconditioned Soviet-era vessel from Ukraine which only came into service in September this year.
China ushered in a new generation of leaders this month at the 18th Communist Party Congress in Beijing, with outgoing President Hu Jintao making a pointed reference to strengthening China's naval forces, protecting maritime interests and the need to "win local war."
---