Taliban attack against Pakistani Shiites kills six, injures 90
The Taliban claimed responsibility for an attack that targeted a procession of Muslim Shiites observing a religious holiday. Since Wednesday, at least 31 Pakistanis have died in attacks claimed by the Taliban.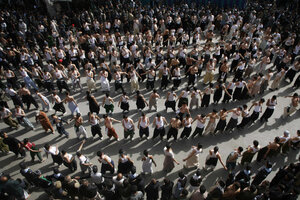 Naseer Ahmed/Reuters
Dera Ismail Khan, Pakistan
A bombing claimed by the Taliban killed at least six people and wounded some 90 others at a Shiite religious procession in northwestern Pakistan on Sunday, police said, as the minority Muslim sect observes the annual Ashoura holiday.
Since Wednesday, at least 31 have been killed in bombings aimed at Pakistani Shiites and claimed by the Taliban, who espouse an extremist interpretation of Sunni Islam. Over 100 were wounded in the attacks during the run-up to the holiday, which commemorates the 7th century death of the Prophet Muhammad's grandson. The schism between Sunnis and Shiites dates back to that time.
Sunday's explosion went off as hundreds of Shiites were passing through the main intersection of the city of Dera Ismail Khan, police said, where food and water stalls were set up to serve the crowd. An initial investigation suggested a bomb was planted near a shop along the procession route.
"The bomb contained about eight kilograms of explosives and steel balls, and was detonated with a remote control device," city police chief Sohail Khalid said.
Several of injured are in serious condition, said Dr. Faridullah Mahsud, an official at the city's hospital, who added that three members of a paramilitary unit providing security for the procession were among the injured. Dr. Khalid Aziz, the top official at the hospital, put the death toll at six.
---