Can Tzipi Livni oust Netanyahu and the Likud Party?
Tzipi Livni, a former foreign minister of Israel, is making a political comeback. At the same time, the ruling Likud Party has announced a hard-line slate of candidates. Can Israeli Prime Minister Benjamin Netanyahu win re-election in January?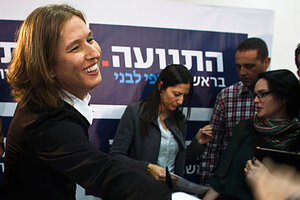 REUTERS/Nir Elias
Israeli Prime Minister Benjamin Netanyahu, who appeared to be cruising to re-election a few weeks ago, suddenly appears vulnerable as the country prepares to go to the polls in January.
The political comeback of a popular former foreign minister on Tuesday, coupled with the ruling Likud Party's selection of an especially hard-line slate of candidates, has suddenly raised questions about Netanyahu's prospects. Eager to portray Netanyahu as an extremist, opposition parties see an opportunity to mount a formidable challenge to the Israeli leader.
Ousting Netanyahu remains a formidable task, but the return of Tzipi Livni, who served as Israel's foreign minister and chief peace negotiator from 2006 to 2009, injected a high-profile name into what had been a lackluster race. Well respected internationally, Livni immediately took aim at what she called a "leadership vacuum" and promised an aggressive push for peace with the Palestinians.
RECOMMENDED: Five top Israelis who don't want to bomb Iran
"I came to fight for peace," she said. "And I won't allow anyone to turn peace into a bad word."
During Netanyahu's nearly four years in office, peace efforts with the Palestinians have remained frozen.
The Palestinians refuse to resume talks unless Israel stops building settlements in the West Bank and east Jerusalem, occupied areas that the Palestinians claim for an independent state.
---