Could China overtake US as global trader?
A special report by the Associated Press examines China's influence with its trading partners over three decades, and how business, politics, and daily life are changing with China's rise as a global player.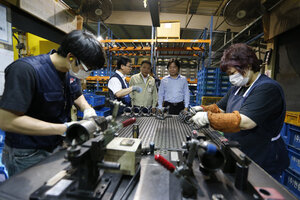 Lee Jin-man/AP
Shin Cheol-soo no longer sees his future in the United States.
The South Korean businessman supplied components to American automakers for a decade. But this year, he uprooted his family from Detroit and moved home to focus on selling to the new economic superpower: China.
In just five years, China has surpassed the United States as a trading partner for much of the world, including U.S. allies such as South Korea and Australia, according to an Associated Press analysis of trade data. As recently as 2006, the U.S. was the larger trading partner for 127 countries, versus just 70 for China. By last year the two had clearly traded places: 124 countries for China, 76 for the U.S.
In the most abrupt global shift of its kind since World War II, the trend is changing the way people live and do business from Africa to Arizona, as farmers plant more soybeans to sell to China and students sign up to learn Mandarin.
The findings show how fast China has ascended to challenge America's century-old status as the globe's dominant trader, a change that is gradually translating into political influence. They highlight how pervasive China's impact has been, spreading from neighboring Asia to Africa and now emerging in Latin America, the traditional U.S. backyard.
---