Italy votes in center-left primary, moves closer to choosing next prime minister
The next general election in Italy, in the spring, will determine who will lead the country as it struggles to recover from recession and high unemployment. On Sunday, Italy held a primary runoff for center-left candidates.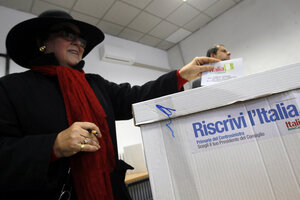 Alessandro Garofalo/Reuters
Italy held a primary runoff Sunday to choose a center-left candidate to run in next year's general election — a man who in a few months could become the EU nation's next premier.
Sunday's runoff pitted veteran Pier Luigi Bersani, 61, against the 37-year-old mayor of Florence, Matteo Renzi, who campaigned on an Obama-style "Let's change Italy now" mantra that has attracted many disgruntled Italians back to politics.
Nearly all polls projected Bersani, the leader of the main center-left Democratic Party, as winning Sunday's primary. He won the first round of balloting Nov. 25 with 44.9 percent of the vote to Renzi's 35.5 percent.
With Silvio Berlusconi's center-right People of Freedom party lagging in the polls and in chaos over whether the three-time premier will run again, analysts were already discussing the possibility that Bersani could soon become Italy's next premier.
The 2013 general election — expected in March or April — will decide if Italy continues on the same path to financial health charted by Premier Mario Monti, appointed last year to save Italy from a Greek-style debt crisis. The former European commissioner was named to head a technical government after international markets lost confidence in then-premier Berlusconi's ability to reign in Italy's public debt and push through structural reforms.
---