Egypt's Muslim Brotherhood calls for pro-Morsi rally
The largest Islamist political group in the Middle Eastern nation is calling on supporters of Egypt's president to gather at the presidential palace in Cairo.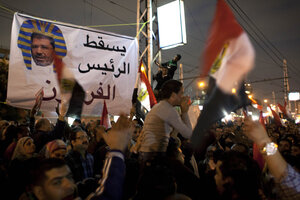 Nasser Nasser/AP
Egypt's most powerful Islamist party called on President Mohammed Morsi's supporters to rally Wednesday outside the presidential palace to counter a mass outpouring of anger by his opponents, setting up a potential clash between the two sides.
About 300 opposition activists are staging a sit-in outside the Itihadiya palace a day after tens of thousands surrounded the complex to press demands that Morsi rescind decrees giving him nearly unrestricted powers and shelve a disputed draft constitution adopted by his allies without the participation of liberals and Christians.
The Brotherhood's political party called for the rally on its official Facebook page, saying it's a bid to underscore Morsi's legitimacy as an elected leader and show the opposition that it cannot use force to impose its will.
The dueling demonstrations are part of a political crisis that has left the country divided into two camps: Morsi, his Muslim Brotherhood and their ultraconservative Islamist allies, versus an opposition made up of youth groups, liberal parties and large sectors of the public. Both sides have dug in their heels, signaling a protracted standoff.
Buoyed by the massive turnout — at least 100,000 outside the palace on Tuesday — the mostly secular opposition held a series of meetings late Tuesday and Wednesday to decide on next steps in the standoff that began Nov. 22 with Morsi's decrees that placed him above oversight of any kinds and escalated after the president's hurriedly allies pushed through a draft constitution.
While calling for more mass rallies is the obvious course of action, activists said opposition leaders also were discussing whether to campaign for a "no" vote in a Dec. 15 constitutional referendum or to call for a boycott.
Brotherhood leaders have been calling on the opposition to enter a dialogue with the Islamist leader. But the opposition contends that a dialogue is pointless unless the president first rescinds his decrees and shelves the draft charter.
---