Greece seen as most corrupt European nation, survey says
Transparency International ranks Greece, along with other European countries racked by the financial crisis, poorly in its 2012 Corruption Perceptions Index.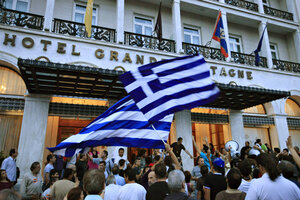 Pascal Rossignol/Reuters/File
The countries worst hit by the European financial crisis are also perceived as being among the most corrupt in Western Europe, and those perceptions appear to be getting increasingly negative, an international watchdog said in a report released Wednesday.
Transparency International's annual Corruption Perceptions Index shows Spain, Portugal, Italy, and Greece with the lowest scores in Western Europe.
On a scale newly introduced for this year's report, where 0 is "highly corrupt" and 100 is "very clean," Spain was ranked highest of the four in place 30 with a score of 65. Portugal followed in place 33 with a score of 63, followed by Italy in place 72 with a score of 42 and Greece in 94th place with a score of 36.
The index measures the perception of corruption in the public sector and not the financial sector, but Transparency's Europe director Anne Koch told The Associated Press the results clearly indicate that people in countries worst hit by the crisis perceive corruption to be widespread.
"It seems to me to be quite blatantly obvious that the lack of transparency in public finances in these four countries has been reflected in the figures," she said.
Two-thirds of the 176 countries ranked scored below 50, which Transparency said indicates a widespread need for more openness in public institutions and more accountability for officials.
"Governments need to integrate anti-corruption actions into all public decision-making," Transparency International head Huguette Labelle said. "Priorities include better rules on lobbying and political financing, making public spending and contracting more transparent and making public bodies more accountable to people."
---