Police attacked as protests intensify in Northern Ireland
On Monday loyalists, angered over the removal of the British flag from Belfast City Hall, protested, throwing rocks, fireworks, and in one case a homemade bomb, at police.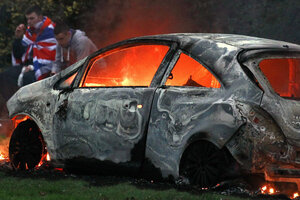 Cathal McNaughton/Reuters
Police were attacked in Belfast on Monday night by loyalists enraged by a decision to remove the British flag from Belfast City Hall, which has sparked eight consecutive days of protests.
About 15 masked men broke out of a crowd assembled in the predominantly Protestant Newtownards Road area, smashed the windows of a police car and threw a petrol bomb into it while an officer was still inside, police said.
The officer escaped unharmed but the Police Service of Northern Ireland (PSNI) said they were treating the attack as attempted murder.
The attack was one of a series of protests across the city on Monday during which stones and fireworks were hurled at police, who responded with water cannon in at least two locations.
---