Romanian government sweeps parliamentary elections, but power struggle not over
Political feuding between Romania's top leaders could harm its reputation as a functioning democracy and deter foreign investment.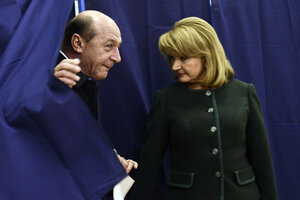 AP
Romania's government swept to victory in parliamentary elections, near final results showed Monday, but it was uncertain whether the convincing win would bring stability and defuse a rancorous political rivalry between the country's top two leaders.
The center-left alliance led by Prime Minister Victor Ponta won nearly three-fifths of the seats in the legislature, trouncing President Traian Basescu's allies, with 95 percent of the vote counted.
Many Romanians are fed up with a power struggle between Mr. Basescu and Mr. Ponta and are desperate for political calm after a year of upheaval. The country has run through three prime ministers and Cabinets this year and endured huge protests against austerity measures imposed in return for a €20-million ($26-million) bailout to help its foundering economy.
Continued political feuding could harm Romania's reputation as a functioning democracy abroad and create an atmosphere of instability that would deter much needed foreign investment.
"We won a clear majority, a majority recognized by our adversaries who have to accept the rules of democracy," Ponta said after polls closed Sunday. "I assure them we will treat the opposition with the respect that we did not get when we were in opposition."
Ponta attempted unsuccessfully to impeach Basescu this year, describing him as a divisive figure who has overstepped his role as president by meddling in government business, and earning criticism by the European Union and Washington for failing to respect the rule of law.
---