The ship 'The Simpsons' bought: Anti-whaling activists add vessel to fleet
The anti-whaling group Sea Shepherd, has built a fleet of four ships to rival Japan's whaling fleet. The latest addition was purchased from the Japanese government by the producer of 'The Simpsons' for $2 million.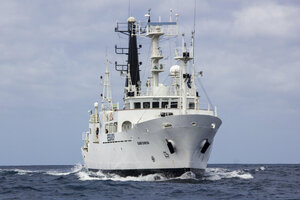 Reuters
Anti-whaling activists unveiled on Tuesday their latest weapon against Japanese whalers in the frigid Southern Ocean, a $2 million ship funded by the producer of The Simpsons television series and purchased in secret from the Japanese government.
The 56-metre (184 ft) 'Sam Simon', which docked in the southern Australian port of Hobart, brings the hardline anti-whaling group Sea Shepherd Conservation Society's fleet to four, just one vessel smaller that Japan's whaling fleet.
---