Egyptians go to polls on controversial constitution
The proposed charter is largely supported by Islamist parties, while opposition groups accuse it of being a power grab for the Muslim Brotherhood.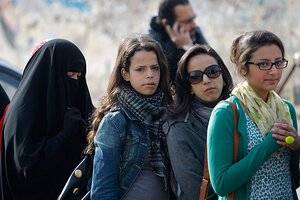 Khaled Abdullah/Reuters
With their nation's future at stake, Egyptians lined up Saturday to vote on a draft constitution after weeks of turmoil that have left them deeply divided between Islamist supporters of the charter and those who fear it will usher in religious rule.
The referendum caps a nearly two-year struggle over the post-revolutionary identity of Egypt after the ouster of Hosni Mubarak's authoritarian regime.
The vote has turned into a dispute over whether Egypt should move toward a religious state under President Mhoammed Morsi's Muslim Brotherhood and ultraconservative Salafi allies, or one that retains secular traditions and an Islamic character. But many Egyptians said they were mainly looking for stability.
Many also fear the newly empowered Muslim Brotherhood and more ultraconservative Islamists are taking advantage of their current political dominance to adopt a charter that will be nearly impossible to amend.
According to the draft, articles 217 and 218 state that the president and parliament have the right to make a "request" to "amend an article or more," then parliament must discuss the request within 30 days. Two thirds of parliament members are needed to pass the request. Then parliament has 60 days to finalize the amended articles, and a third of parliament is needed to pass the final text before putting them to a national referendum.
Highlighting the tension in the run-up to the vote, nearly 120,000 army troops were deployed on Saturday to protect polling stations. Clashes between Morsi's supporters and opponents over the past three weeks have left at least 10 people dead and about 1,000 wounded.
"The times of silence are over," bank employee Essam el-Guindy said as he waited to cast his ballot in Cairo's upscale Zamalek district. "I am not OK with the constitution. Morsi should not have let the country split like this."
---