South Africa is not 'falling apart,' President Zuma says
The president of South Africa sought to dispel concerns about the country's sluggish growth, saying two downgrades by international rating agencies did not mean the country wasn't continuing to develop.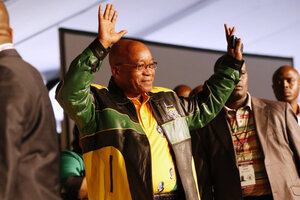 Mike Hutchings/Reuters
Bloemfontein, South Africa
South Africa is not "falling apart" and the ruling African National Congress (ANC) can run the continent's biggest economy, President Jacob Zuma said on Sunday, as he sought to dispel the concerns of rating agencies and investors about sluggish growth.
In his opening address to an ANC conference to choose its leadership for the next five years, Zuma said two downgrades by international ratings agencies this year did not mean South Africa was in trouble.
"We want to dismiss the perceptions that our country is falling apart because of the downgrades," he said. "We continue to do our development work, we continue to plan for a recovery."
At the conference this week held in the central city of Bloemfontein, Zuma, 70, is expected to garner enough support to head off a challenge to his party chief post from Deputy President Kgalema Motlanthe.
---