Japan's new PM to tap Taro Aso, former prime minister, for finance post
Shinzo Abe, elected Japan's news prime minister, will offer the finance minster's job to Taro Aso, a former prime minister and Liberal Democratic Party veteran.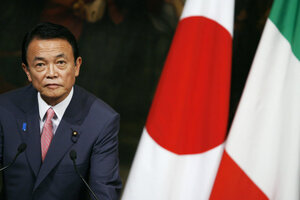 Alessia Pierdomenico/Reuters/File
Japan's next Prime Minister Shinzo Abe will offer the finance minister's job to Taro Aso, media said, a veteran lawmaker and former prime minister expected to toe the party line calling for aggressive monetary easing and a public works splurge.
Asahi and Mainichi newspapers reported on Tuesday Aso would get the finance post while Yomiuri said Aso, 72, was also being considered as a possible foreign minister.
Abe, whose Liberal Democratic Party (LDP) and its small ally New Komeito captured a two-thirds majority in Sunday's landslide, will announce his cabinet line-up on Dec. 26.
The choice of Aso suggests that Abe is looking to LDP veterans to fill important positions to avoid criticism that his ministers lack experience, a recurring complaint about cabinets of the Democratic Party of Japan that trounced the LDP in 2009, only to suffer a crushing defeat three years later.
---