New Mexican president announces multipronged strategy against drug-related violence
Enrique Pena Nieto, the president of Mexico, announced Monday a tougher stance on violence related to drugs, including special units to deal with kidnappings, and more crime prevention.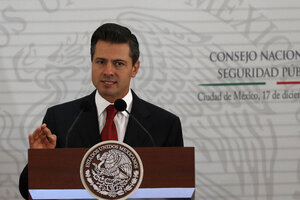 Tomas Bravo/Reuters
Mexico's new president on Monday unveiled his strategy to curb drug-related violence that blighted the rule of his predecessor, announcing special units to combat kidnapping and extortion and promising to focus more on crime prevention.
Enrique Pena Nieto took office on Dec. 1 pledging to restore stability to Mexico, which has been battered by brutal turf wars between drug cartels and their clashes with security forces.
More than 60,000 people died in the bloodletting under former president Felipe Calderon, who became embroiled in an escalating drug war after he sent in the army to bring hot spots to heel upon taking office in late 2006.
---