Egypt's public prosecutor resigns amid protests
Egypt's public prosecutor quit under pressure from his opponents in the judiciary, drawing an angry response from the Muslim Brotherhood ahead of a second round vote on a divisive draft-constitution.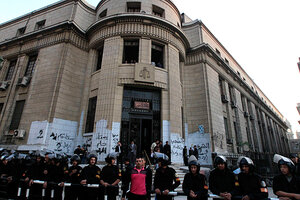 Mohamed Abd El Ghany/Reuters
Egypt's public prosecutor resigned under pressure from his opponents in the judiciary, dealing a blow to President Mohamed Mursi and drawing an angry response on Tuesday from the Islamist leader's supporters in the Muslim Brotherhood.
Seeking to keep pressure on Mursi, the main opposition coalition staged protests against an Islamist-backed draft constitution that has divided Egypt but which looks set to be approved in the second round of a referendum on Saturday.
A few hundred protesters made their way through the streets of Cairo chanting "Revolution, revolution, for the sake of the constitution" and calling on Mursi to "Leave, leave, you coward".
But as the protest got under way, the numbers were well down on previous demonstrations.
Mursi obtained a 57 percent "yes" vote for the constitution in a first round of the referendum last weekend, state media said, less than he had hoped for.
The opposition, which says the law is too Islamist, will be emboldened by the result but is unlikely to win the second round, to be held in districts seen as even more sympathetic towards Mursi's Muslim Brotherhood.
Protesters broke into cheers when the public prosecutor appointed by Mursi last month announced his resignation late on Monday.
In a statement on its Facebook page, the Muslim Brotherhood, which propelled Mursi to power in elections in June, said the enforced resignation of public prosecutor Talaat Ibrahim was a "crime".
The Supreme Judiciary Council, which governs the country's judicial system, should refuse to accept the prosecutor's resignation, the Brotherhood said.
---