South Korea's new female president could renew talks with North Korea
In a televised speech by South Korea's first female president, Park Geun-hye, she mentioned North Korea's recent rocket launch, and emphasized the importance of engagement and aid with the neighboring nation.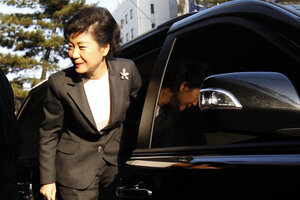 Kim Hong-Ji/Reuters
Park Geun-hye, daughter of a divisive military strongman from South Korea's authoritarian era, has been elected the country's first female president, a landmark win that could mean a new drive to start talks with rival North Korea.
After five years of high tension under unpopular incumbent Lee Myung-bak (Lee Myuhng Bahk), Park has vowed to pursue engagement and step up aid to North Korea, despite the latter's widely condemned long-range rocket launch last week.
On Thursday, Park mentioned the North Korean rocket launch during a nationally televised speech.
"The North's long-range missile launch symbolically showed how grave our security reality is," Park said following a visit to Seoul's National Cemetery, where she paid silent tributes to late presidents, including her father.
North Korean state media, however, have repeatedly questioned the sincerity of Park's North Korea engagement policy, since she and Lee are from the same conservative party.
Ties between the Koreas plummeted during Lee's term. Many voters believe Lee's policies drove North Korea to renew nuclear and missile tests and to launch two attacks in 2010 that killed 50 Koreans.
The rocket launch, which Park's party has called a test of banned ballistic missile technology, made North Korea an issue in the closing days of campaigning, although many voters said they cared more about the economy.
---