Egypt's opposition: If we can't beat constitution, amend it
With the Islamist constitution backed by President Mohamed Morsi looking likely to pass this weekend's referendum, the opposition is looking to push amendments next year.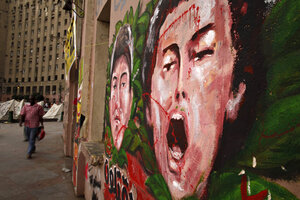 Khaled Abdullah/Reuters
Egypt's opposition, facing defeat over a new constitution in a referendum this weekend, urged its supporters to reject the Islamist-backed charter and pledged to fight on to amend it during elections expected next year.
Forty-eight hours before the second round of the plebiscite, the main opposition coalition of liberals, leftist, Christians, and secular Muslims called for a "no" vote against a document it views as leaning too far towards Islamism.
The first day of voting last weekend resulted in a 57 percent majority in favor of the constitution, promoted by President Mohamed Morsi as a vital step in Egypt's transition to democracy almost two years after the fall of Hosni Mubarak.
The second stage on Saturday is expected to produce another "yes" vote as it covers areas of the country that are seen as more conservative and likely to back Mr. Morsi.
The National Salvation Front, the main opposition coalition, said a "no" vote meant taking a stand against attempts by the Muslim Brotherhood, Morsi's political backers, to dominate Egypt.
"For the sake of the future, the masses of our people should strongly and firmly say 'no' to injustice and 'no' to the Brotherhood's dominance," the Front said in a statement.
A senior Front member, Abdel Ghaffar Shokr, head of the Popular Socialist Coalition Party, said that if the constitution was approved, the opposition would go on fighting to change it.
"That's why we will participate in the legislative election because it is the only way to amend the constitution," he said.
The constitution must be in place before elections can be held. If it passes, the poll should be held within two months.
In an attempt to mobilise voters, the opposition said it planned to hold public meetings, distribute flyers, and send cars equipped with loudspeakers through the streets.
---