Dozens killed in air strike on Syrian bakery
Activists say dozens, possibly hundreds, were killed during an air strike on a bakery in central Syria Sunday. A large crowd had been waiting in line at the bakery to buy bread.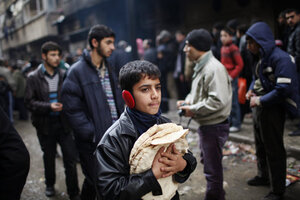 Ahmed Jadallah/Reuters
Dozens of people were killed and wounded in an air strike on a bakery in Syria's central Hama province on Sunday, activists said, with some reporting up to 200 dead.
"There is no way to really know yet how many people were killed. When I got there, I could see piles of bodies all over the ground. There were women and children," said Samer al-Hamawi, an activist in the town of Halfaya, where the strike hit. "There are also dozens of wounded people"
Halfaya was seized by rebels last week as part of a campaign to push into new territories in the 21-month-old revolt against President Bashar al-Assad.
Another activist said residents picking through the bodies were still determining which were wounded and which were dead.
---