China's new leaders to tighten Internet restrictions
This week, China's legislature considered a measure that would require Internet users to register their real names, just one of several efforts by the new communist leadership to tighten control over the Internet.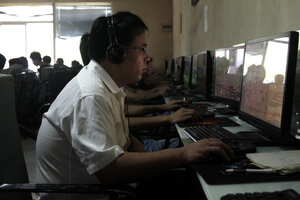 Ng Han Guan/File/AP
China's new communist leaders are increasing already tight controls on Internet use and electronic publishing following a spate of embarrassing online reports about official abuses.
The measures suggest China's new leader, Xi Jinping, and others who took power in November share their predecessors' anxiety about the Internet's potential to spread opposition to one-party rule and their insistence on controlling information despite promises of more economic reforms.
"They are still very paranoid about the potentially destabilizing effect of the Internet," said Willy Lam, a politics specialist at the Chinese University of Hong Kong. "They are on the point of losing a monopoly on information, but they still are very eager to control the dissemination of views."
This week, China's legislature took up a measure to require Internet users to register their real names, a move that would curtail the Web's status as a freewheeling forum to complain, often anonymously, about corruption and official abuses. The legislature scheduled a news conference Friday to discuss the measure, suggesting it was expected to be approved.
That comes amid reports Beijing might be disrupting use of software that allows Web surfers to see sites abroad that are blocked by its extensive Internet filters. At the same time, regulators have proposed rules that would bar foreign companies from distributing books, news, music and other material online in China.
---