Drone use surges in Yemen, the frontline against Al Qaeda
Drone strikes in Yemen skyrocketed in 2012, as much as tripling in frequency when compared to 2011.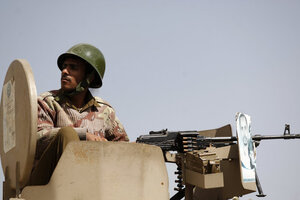 Hani Mohammed/AP
In the wake of the killing of Osama bin Laden, Yemen – home to Al Qaeda in the Arabian Peninsula (AQAP) – has come close to eclipsing Pakistan as a key focus of American counter-terrorism efforts.
In 2011, then-CIA director David Petraeus characterized the group as the "most dangerous node in the global jihad" and the American government's action has appeared to echo the rhetoric. Notably, the number of American airstrikes in Yemen, largely carried out by unmanned drones, has surged over the past year, as much as tripling in frequency in comparison with 2011.
The airstrikes are just one element of a multifaceted engagement in Yemen. A small number of US forces are stationed there to provide strategic assistance to the Yemeni military, while Washington has provided more than $300 million, split among military, humanitarian and development aid.
Even as the drone strikes have increased in frequency, they remain a center of debate, overshadowing most other facets of the American and Yemeni governments' efforts against AQAP.
---