Pakistan Taliban chief says TTP will negotiate, but not disarm
'We believe in dialogue but it should not be frivolous,' Pakistan Taliban chief, Hakimullah Mehsud said in a 40 minute video. 'Asking us to lay down arms is a joke.'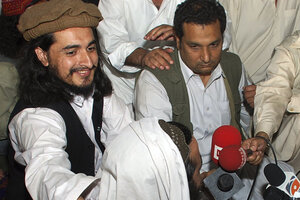 Reuters/File
Dera Ismail Khan, Pakistan
The head of Pakistan's Taliban said his militia is willing to negotiate with the government but not disarm, a message delivered in a video given to Reuters on Friday.
The release of the 40-minute video follows three high-profile Taliban attacks in the northern city of Peshawar this month: an attack by multiple suicide bombers on the airport, the killing of a senior politician and eight others in a bombing, and the kidnap of 22 paramilitary forces on Thursday.
The attacks underline the Taliban's ability to strike high-profile, well-protected targets even as the amount of territory it controls has shrunk and its leaders are picked off by US drones.
"We believe in dialogue but it should not be frivolous," Hakimullah Mehsud said. "Asking us to lay down arms is a joke."
In the video, Mehsud sits cradling a rifle next to his deputy, Wali ur-Rehman. Military officials say there has been a split between the two men but Mehsud said that was propaganda.
"Wali ur-Rehman is sitting with me here and we will be together until death," said Mehsud, pointing at his companion.
---