Russia urges Damascus to talk with Syrian opposition
Russia, Syria's biggest international supporter, is leaning on President Bashar al-Assad to begin a dialogue with the Syrian opposition and take steps toward ending the conflict.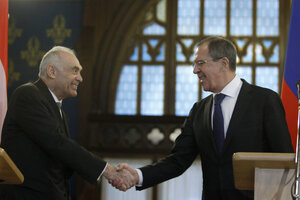 Sergei Karpukhin/Reuters
Russia urged the Syrian government today to act on its stated readiness for dialogue with its opponents, throwing its weight behind a diplomatic push to end a 21-month-old conflict in Syria.
Russian Foreign Minister Sergei Lavrov said he had urged Syrian Deputy Foreign Minister Faisal Makdad to emphasize his government's openness to dialogue with the opposition during talks in Moscow yesterday.
"We actively encouraged... the Syrian leadership to make as concrete as possible its declared readiness for dialogue with the opposition," Lavrov told reporters after talks with his Egyptian counterpart Mohamed Kamel Amr in Moscow.
He said the Syrian government should stress its readiness for talks on the widest possible range of matters, in line with an international agreement in Geneva last June calling for a transitional government.
"I think a realistic and detailed assessment of the situation inside Syria will prompt reasonable opposition members to seek ways to start a political dialogue," added Lavrov, who last week said that neither side would win by force.
Russia expects to meet a senior US diplomat on Syria next month to discuss with international Syria envoy Lakhdar Brahimi his plans to end the civil war there, the Kremlin's envoy to the region said earlier today.
---