Israel allows gravel into Gaza for first time since Hamas takeover
The gravel shipment was part of the cease-fire deal brokered between Israel and Gaza last month, and may be followed with additional building materials.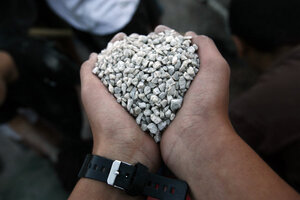 Baz Ratner/Reuters
Israel eased its blockade of Gaza today, allowing a shipment of gravel for private construction into the Palestinian territory for the first time since Hamas seized control in 2007.
A Palestinian official with knowledge of an Egyptian-brokered ceasefire that ended eight days of fighting last month between Israel and Gaza militants said the move had been expected as part of the deal.
---