Italian Nobel winner, Montalcini, dies at age 103
Italian Rita Levi Montalcini, who won the Nobel Prize in 1986 with American Stanely Cohen for their discovery of nerve growth factor, died Sunday. Montalcini was a well-known figure in Italy, known for encouraging young women to study science.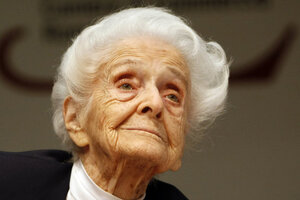 Riccardo De Luca/AP/File
Rita Levi Montalcini, joint winner of the Nobel Prize for Medicine and an Italian Senator for Life, died on Sunday at the age of 103, her family said.
The first Nobel laureate to reach 100 years of age, she won the prize in 1986 with American Stanley Cohen for their discovery of nerve growth factor (NGF), a protein that makes developing cells grow by stimulating surrounding nerve tissue.
Her research helped in the treatment of spinal cord injuries and has increased understanding of cardiovascular diseases, Alzheimer's and conditions such as dementia and autism.
One of twins born to a Jewish family in Turin in 1909, Montalcini was the oldest living recipient of the prize.
During World War Two, the Allies' bombing of Turin forced her to flee to the countryside where she established a mini-laboratory. She fled to Florence after the German invasion of Italy and lived in hiding there for a while, later working as a doctor in a refugee camp.
---