UN Envoy warns of mass death next year in Syria
The international envoy to Syria emphasized the deteriorating situation in the country, and called for a quick end to the conflict, warning hundreds of thousands could die next year.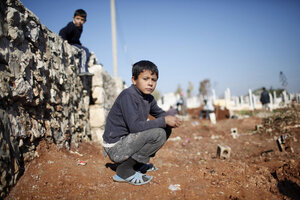 Ahmed Jadallah/Reuters
The international envoy to Syria warned Sunday that as many as 100,000 could die in the next year if a way cannot be found quickly to end the country's civil war.
Lakhdar Brahimi, the U.N.-Arab League envoy for the Syrian crisis, told reporters in Cairo that if the crisis continues Syria will not be divided into states "like what happened in Yugoslavia" but will face "Somalization, which means warlords, and the Syrian people will be persecuted by those who control their fate."
Syrian rebels are fighting a 21-month-old revolt against President Bashar Assad's regime. Activists say more than 40,000 people have been killed in the crisis, which began with pro-democracy protests but has morphed into a civil war.
Since starting his job in September, Brahimi has sought to advance an international plan, reached in Geneva six months ago, that calls for an open-ended cease-fire between rebels and government troops and the formation of a transitional government to run the country until elections can be held.
Over the past week Brahimi went to Damascus where he met Assad then flew to Moscow, one of Syria's closest international allies, where he discussed ways of ending the country's crisis.
---