Facing rebels, Central African Republic's president consolidates power
Under a rebel insurgency, President Francois Bozize of Central African Republic took full control of the military, dismissing his son as acting defense minister. Other African nations have sent hundreds of soldiers to Central African Republic to help fight the rebels.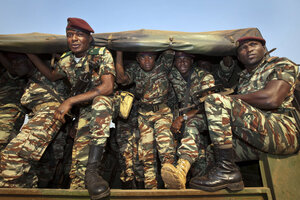 Ben Curtis/AP
Bangui, Central African Republic
Facing an insurgency by a new rebel coalition, the president of Central African Republic consolidated military power under his control Thursday after dismissing his own son as acting defense minister along with his army chief of staff.
President Francois Bozize said in a decree read on state radio late Wednesday that he was taking over the position held by his son, Jean Francis Bozize as neighboring countries sent troops to help.
Hundreds of soldiers from Chad, Republic of Congo, Gabon and Cameroon have been in arriving this week in this desperately poor, landlocked country where rebels have seized 10 towns in a month's time.
Rebel spokesman Col. Djouma Narkoyo reiterated Thursday that they were holding their position at the transportation hub of Sibut pending negotiations in Gabon. They have apparently made no further advance toward the capital since taking the town on Dec. 29.
"Our position today is that we respect the decision of the Economic Community of Central African States," he said by satellite phone. "That's why we are staying in Sibut and are not advancing."
---