Australia fires burn 50,000 acres of farmland and forest
Prime Minister Julia Gillard warned today during a visit to wildfire-ravaged Tasmania that climate change could make such events more common in blaze-prone Australia.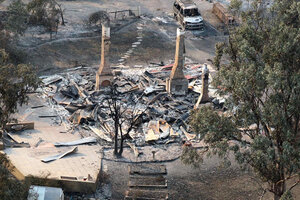 Chris Kidd/Pool/REUTERS
Officials searched Monday for bodies among the charred ruins of more than 100 homes and other buildings destroyed by wildfires in the Australian island state of Tasmania. Around 100 residents remained unaccounted for, three days after the fires broke out.
As scores of fires raged across Australia's parched southeast, a volunteer firefighter suffered severe burns to his hands and face while fighting a grass fire near Gundaroo village, about 220 kilometers (138 miles) southwest of Sydney, the New South Wales state Rural Fire Service said in a statement. The firefighter was flown to a hospital in Sydney.
Tasmania's acting police commissioner, Scott Tilyard, said no casualties had been reported in the state from the fires. But he said it would take time before officials were certain that no one had died in the blazes, which have razed 20,000 hectares (50,000 acres) of forests and farmland across southern Tasmania since Friday.
Tilyard said 11 teams of officials were searching for the roughly 100 missing residents in places including the small town of Dunalley, east of the state capital of Hobart, where around 90 homes were destroyed.
"Until we've had the opportunity to do all the screening that we need to do at each of those premises, we can't say for certain that there hasn't been a human life or more than one human life lost as a result of these fires," Tilyard told reporters.
---