Chinese businessman pleads guilty to $100 million in software piracy
Chinese businessman Xiang Li pleads guilty to stealing $100 million in software from Microsoft, Oracle, Siemens, and others, marking the first time a software pirate was successfully lured to US soil and arrested.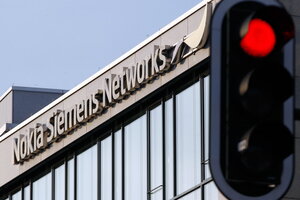 Michael Dalder / Reuters / File
In a case U.S. officials say is the first of its kind, a Chinese businessman pleaded guilty Monday to selling stolen American software used in defense, space technology and engineering -- programs prosecutors said held a retail value of more than $100 million.
The sophisticated software was stolen from an estimated 200 American manufacturers and sold to 325 black market buyers in 61 countries from 2008 to 2011, prosecutors said in court filings. U.S. buyers in 28 states included a NASA engineer and the chief scientist for a defense and law-enforcement contractor, prosecutors said.
Corporate victims in the case included Microsoft, Oracle, Rockwell Automation, Agilent Technolgoies, Siemens, Delcam, Altera Corp and SAP, a government spokesman said.
U.S. officials and the businessman's lawyer, Mingli Chen, said the case was the first in which a businessman involved in pirating industrial software was lured from China by undercover agents and arrested.
The businessman, Xiang Li, of Chengdu, China, was arrested in June 2011, during an undercover sting by U.S. Department of Homeland Security agents on the Pacific island of Saipan, an American territory near Guam.
---